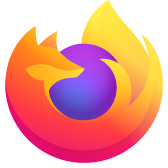 after update, can no longer download a shipping label from etsy
to print labels from Etsy, I have to "download" the label ( etsys way of doing things) this brings up the label so that it can then be printed. SINCE THE UPDATE YOU DID FIREFOX 61.0.1 I can NO LONGER DOWNLOAD THE LABEL. IT JUST SPINS AND SPINS AND SPINS. YES, I CLEARED cache and cookies, yada yada yada, restarted computer, contacted etsy have been going round and round with them, they say it is YOUR PDF whaterver you call it.. I am very pissed off at this point. oh, and YES, IT WORKS JUST FINE WITH SAFARI.... How can I go back to previous firefox since it was working fine then. attached is what it looks like as it spins and NEVER downloads. though looks like it is not even downloading my saved grab screen to your stupid site either arrrrgggghhh

[Personal information removed by moderator. Please read Mozilla Support rules and guidelines, thanks.]
to print labels from Etsy, I have to "download" the label ( etsys way of doing things) this brings up the label so that it can then be printed. SINCE THE UPDATE YOU DID FIREFOX 61.0.1 I can NO LONGER DOWNLOAD THE LABEL. IT JUST SPINS AND SPINS AND SPINS. YES, I CLEARED cache and cookies, yada yada yada, restarted computer, contacted etsy have been going round and round with them, they say it is YOUR PDF whaterver you call it.. I am very pissed off at this point. oh, and YES, IT WORKS JUST FINE WITH SAFARI.... How can I go back to previous firefox since it was working fine then. attached is what it looks like as it spins and NEVER downloads. though looks like it is not even downloading my saved grab screen to your stupid site either arrrrgggghhh ''[Personal information removed by moderator. Please read [[Forum rules and guidelines]], thanks.]''
Modified by Chris Ilias
All Replies (3)
Please remove your personal info as was said do not use personal info in your question as bots and spammers will find this as it is a open public forum. Go to the right of your question box and click on edit and remove it.
Hi, using caps is considered shouting and rude. Firefox Support Volunteers have nothing to do with your issue. Going backwards defeats the issue, maybe but the fix will be put into ver 62.
So please : try a Refresh but Note that this does more than uninstalling and re-installing does. Normal uninstalling does not remove some preferences which may have become corrupt. Please Refresh but do this 1st: Delete your Cookies and Cache and TEST.
then
TEST....... If no issues then Extensions which need to be added back in 1 at a time and tested ..... Or it is your Profile : Make a new one and test ...:
If is your Profile :
Or can try a clean install be backing up for safe keeping then uninstall Firefox and Delete all Mozilla Folders on your System except your Profile. Reinstall with a Full Version Installer : https://www.mozilla.org/firefox/all/
Please let us know if this solved your issue or if need further assistance.
thank you for the response. I will go through the steps, I am sorry for the all caps...and I cannot for the life of me figure out what you mean about my personal info. When I checked my profile, I have nothing on there...
I am however, discouraged, that I should have to go through all these different steps and try all these different things for a problem, that I believe that firefox created. As I stated, the trouble started after firefox did the update. It is frustrating that one cannot ask firefox directly....
I will let you know how things sort out. In meantime I will use my other more reliable browser Safari.