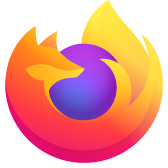 local .htm site - .jpg not loading via javascript
One of the functions of our website is a local download of a portion of the site. When downloaded an .htm file (and its companion directory) are downloaded. When the .htm file is loaded, a .jpg file should correctly load via javascript. It no longer works in Firefox but it does work in Chrome and Edge. Screenshot 1 and 2 show it working in Edge and Chrome, 3 shows it not loading in Firefox. Does anyone have any ideas on why this can be happening? I've already tried Troubleshooting mode, new profile, different computer - nothing seems to be working.
One of the functions of our website is a local download of a portion of the site. When downloaded an .htm file (and its companion directory) are downloaded. When the .htm file is loaded, a .jpg file should correctly load via javascript. It no longer works in Firefox but it does work in Chrome and Edge. Screenshot 1 and 2 show it working in Edge and Chrome, 3 shows it not loading in Firefox. Does anyone have any ideas on why this can be happening? I've already tried Troubleshooting mode, new profile, different computer - nothing seems to be working.
All Replies (3)
Also, from the Javascript Errors Notifier extension, I got this error (attached) - SecurityError: The operation is insecure.
The first to do in such a case is to check the Web Console for security and other relevant-looking messages.
---
You can check the Web Console (Tools -> Web Developer) for messages about blocked content and about the presence of mixed or unsafe content.
You can check the Network Monitor to see if content is blocked or otherwise fails to load.
If necessary use "Ctrl+F5" or "Ctrl+Shift+R" (Mac: Command+Shift+R) to reload the page and bypass the cache to generate a fresh log.
I'm not seeing an error that would be the cause of that. Attached is a screenshot showing some unreachable code errors. I think it's important to reiterate two points - The webiste has been downloaded locally so Network Monitor isn't useful. The site works in both Chrme and IE and previously worked in .Can you tell me which version made changes to javascript handling?

Ade