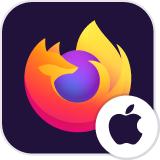 How to bookmark all tabs on iPad iPhone
Instructions on How to bookmark all tabs on iPad
Notes: Firefox - 112.2 iPad 7 - iOS 15.0
Instructions on How to bookmark all tabs on iPad Notes: Firefox - 112.2 iPad 7 - iOS 15.0
All Replies (3)
Thanks Paul.
Unfortunately that article says nothing about bookmarking all open tabs at once. It's instructions are for adding, removing, or editing one bookmark at a time.
Fwiw I've seen that page before. The overall info on it is very limited.
For example there is no information or instruction how to pick the folder where you want the bookmark to be saved when adding the bookmark. You have no choice for where the added bookmark is placed. For it to be In it the folder you want it has to be edited after the fact.
Perhaps I'm missing something. If there is a way to choose the folder while you are adding a bookmark please let me know.
I
Ah, I see what you mean. That level of functionality is not currently available in Firefox for iOS, but may be included in a future update.