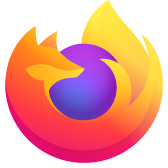 new update
new update has changed settings. cant access the close window button top right. No saved favourites. Anyone help? thks
new update has changed settings. cant access the close window button top right. No saved favourites. Anyone help? thks
All Replies (1)
Hi, is the problem on your Windows PC? Somehow your question ended up under Android.
If it's Windows, you can close a window using either
Ctrl+w => Close Tab will close the window when there's only one tab
Alt+F4
Alt+Spacebar, then Close
You also could try double-clicking a blank area of the title bar/tab bar to maximize the window.
---
Is the problem that everything got huge?
Firefox 103 now applies the Windows "Make text bigger" setting as a zoom multiplier (Release Notes).
You may like the effect that preference has in other programs, so you want to keep it, but if it's not needed, you can reset that to 100% to resolve the issue:

---
Otherwise, Firefox 103 has 3 interrelated hidden settings that control the overall zoom level and whether it considers information from the system. This one seems to be working for many people to revert the change:
(1) In a new tab, type or paste about:config in the address bar and press Enter/Return. Click the button accepting the risk.
More info on about:config: Configuration Editor for Firefox. The moderators would like us to remind you that changes made through this back door aren't fully supported and aren't guaranteed to continue working in the future.
(2) In the search box in the page, type or paste ui.textScaleFactor and pause while the list is filtered.
Normally, Firefox will display a bar with Boolean Number String and a plus button. If Firefox displays a row that already has a number value, skip to step 5.
(3) Click the circular button in front of Number and then click the + button to create a new preference. (See composite screenshot below.)
(4) Firefox should display an editing field, and show a value of 0 -- edit the value to 100 then press Enter or click the blue check mark button to save the change.
(5) If the current value of ui.textScaleFactor is NOT 100, then double-click the preference to display an editing field, and change the value to 100 then press Enter or click the blue check mark button to save the change.