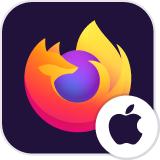 IOS fail to receive tab push from other devices
Dear Sir/Madam,
The IOS version of Firefox (both iPhone and iPad) cannot receive tab pushed from all other devices (including pushed from Windows and IOS). I am sure that the Firefox on IOS devices is logged in and the notification of the IOS is on. This problem happened a few months ago which it was fine in the past.
I tried to logout the Firefox account and re-login. Also tried to delete the IOS apps and install again. But all the methods I tried cannot solve the problem.
Thanks Calvin
Dear Sir/Madam, The IOS version of Firefox (both iPhone and iPad) cannot receive tab pushed from all other devices (including pushed from Windows and IOS). I am sure that the Firefox on IOS devices is logged in and the notification of the IOS is on. This problem happened a few months ago which it was fine in the past. I tried to logout the Firefox account and re-login. Also tried to delete the IOS apps and install again. But all the methods I tried cannot solve the problem. Thanks Calvin
All Replies (1)
Hi
I have looked into this and it appears to be an issue that our developers are aware of and are looking into. You can follow progress on this and add comments at: