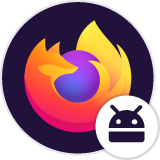 Install Firefox on Android 4.4.2
Hello, I just reseted my HP10 tablet to factory settings. I'm looking to install an old version but I dont know where to download it. Thank you for helping Michel - LL-Linux
Hello, I just reseted my HP10 tablet to factory settings. I'm looking to install an old version but I dont know where to download it. Thank you for helping Michel - LL-Linux
All Replies (7)
Hi
Firefox for Android has not been built to run on a version of Android that old. Even with the file, it would not work correctly on a version of Android that old.
Hi Seburo ! Bad luck for me ! I keep going on looking for a version same level the one I installed in the past when I received that tablet ... Shoud an install file be available some where on the Internet ? There the point !
Anyhow THANK YOU SEBURO for promptness !
Michel
Chosen Solution
No problem, glad I could help.
I've got an old Kindle that is running some early version of Android 4. I have Firefox version 55.0.2 running on it, which I think is the final version that would run on something that old. You could try to side load that version. I found it here: https://archive.mozilla.org/pub/mobile/releases/55.0.2/ I think you will need to know which hardware architecture to choose for your device.
Thank you Peter404, I'll try tonight and try to keep you informed about result. First is to find architecture ... may on system parameters ... I'll tell you Michel
hello peter404, I went throught the parameters of the tablet and found : HP 10 Plus 2201nn SN : CNU4479F93 PN : J7Y10EA#ABB
Android 4.4.2 Firmware version 1.0.9.4 row Version du noyau 3.3.0 daisy@coma-server#1 2260162018 Numéro de build KOT49H.20150122 Processor type QuadCore-A31 Series Etat SELinux Application I'm able to find litterature about Allwinner (four ARM Cortex A7 CPUs, ...) but nothing telling me which file of three present in archive I must download ... Help ! Sure if youbget time to answer ... Thanks anyhow ! Michel
I am sorry, but I do not know how to determine which is the proper architecture.