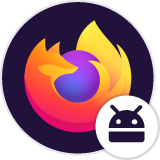 Firefox startup
I have loaded Firefox but instead of web browser page it is showing top sites and I can't access the browser. How do I clear the top sites page and get to the web browser page? I am using a Samsung Galaxy 2 tablet. this is very frustrating as I have spent several hours so far Roger
I have loaded Firefox but instead of web browser page it is showing top sites and I can't access the browser. How do I clear the top sites page and get to the web browser page? I am using a Samsung Galaxy 2 tablet. this is very frustrating as I have spent several hours so far Roger
All Replies (1)
Hello Tewhiti,
Thank you for posting on Mozilla Support. We value and appreciate you as a user.
If I am not mistaken, when you first open Firefox, that is you default landing page. There is an address bar at the top where you can type in the URL for the page you are trying to navigate to.
Hope this helps!
Thanks!
---
Did you know that Mozilla Support is helped out by volunteers? Be part of SUMO! http://mzl.la/OJtpch
Donate more than $30 and get a T-Shirt! https://donate.mozilla.org/page/contribute/joinmozillaSometimes a problem with Firefox may be a result of malware installed on your computer, that you may not be aware of.
Modified by Andrew