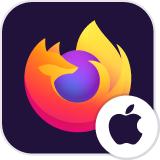 Cannot pay with PayPal on eBay just going to blank tab. Just updated to iOS version112.0 (29983) no problems with older version. Still working on Safari
What is the solution. Do I have to revert to the old version. I am running iOS 16.4.1
What is the solution. Do I have to revert to the old version. I am running iOS 16.4.1
All Replies (1)
I have a similar problem. I do not manage to post my question. Therefore one last try here in replay .

When connected to Firefox account - No Paypal with Firefox

When I set up Firefox on my iPad, I can log in to Paypal. Login request consists of username, password and SMS which works fine.
If I have then logged into https://accounts.firefox.com/ to synchronize my bookmarks and then go to the Paypal and then go to the Paypal page to log in, I only get to the username and password prompt, the option to confirm by SMS is not available. Instead, a message: We can not log you in!
What can this be? A virus?