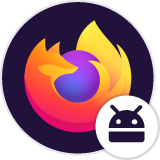 Broken Links on Firefox for Android
As of this evening, Firefox for Android no longer opens links from webpages. This was working just fine yesterday, but any attempt to solve the issue has resulted in failure.
I can still open links manually by copy-pasting them into a new tab.
I have tried disabling all add-ons, to no effect.
I discovered this through my regular browsing, but I have also tested a random Google search page, as well as various links in Mozilla Support.
Javascript appears to be unaffected.
Current version is Firefox for Android 106.1.0.
As of this evening, Firefox for Android no longer opens links from webpages. This was working just fine yesterday, but any attempt to solve the issue has resulted in failure. * I can still open links manually by copy-pasting them into a new tab. * I have tried disabling all add-ons, to no effect. * I discovered this through my regular browsing, but I have also tested a random Google search page, as well as various links in Mozilla Support. * Javascript appears to be unaffected. Current version is Firefox for Android 106.1.0.
Chosen solution
After discovering that the issue affects another app on my device, I initiated a restart. Not sure what caused the issue, but it's fixed now! Thanks for your help :D
Read this answer in context
👍 0
All Replies (3)
Hi
Which add-ons do you have installed in Firefox for Android?
What level of enhanced tracking protection do you have set?
Do you have an example of a website where this happens?
As mentioned, the problem persists with add-ons disabled, and I have tested this on multiple sites, including Google and Mozilla Support. In case add-ons are somehow able to affect this while disabled, here are the ones I've been using.
Tomato Clock
Web Archives
uBlock Origin
When the issue was discovered, I had Enhanced Tracking Protection on, but I have tested having it off, to no effect.
Chosen Solution
After discovering that the issue affects another app on my device, I initiated a restart. Not sure what caused the issue, but it's fixed now! Thanks for your help :D