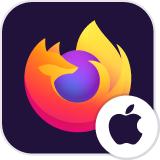 Firefox app on iPhone
My firefox app disappeared from my iPhone 6S. It still shows as being installed in settings. The only way I can access it is to go into App Store and open it. It will still not show up on the phone
My firefox app disappeared from my iPhone 6S. It still shows as being installed in settings. The only way I can access it is to go into App Store and open it. It will still not show up on the phone
All Replies (1)
Hi kbudlong,
You should try deleting the Firefox app on your iPhone, then reinstall from the App Store to check if your issue still persists.
Deleting an app from your iPhone settings Step 1: Open Settings Step 2: Select General > iPhone Storage Step 3: Search 'Firefox' by tapping on the search icon on the top right corner. Step 4: Tap on the Firefox app. Step 5: Tap on the 'Delete App' and confirm the deletion.
After performing the above steps, reinstall the Firefox app like you normally would from the App Store.
Hope the above steps helps.