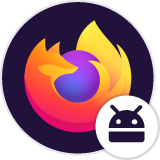 Manage bookmark folders in Firefox for Android
The Bookmarks option cannot be found on the 3-points menu, con trary to the following help topic: https://support.mozilla.org/en-US/kb/manage-bookmark-folders-firefox-android#w_create-a-new-bookmark-folder There are several options like the following three, but Bookmarks is not there: Select tabs, Share all tabs, Tabs settings, etc. What is this issue, and how can I manage tabs folders, please? How can tabs folders be managed like making a new tabs folder or rename it?
Modified by Straydog
All Replies (6)
You should be on a New Tab page, or on any website, not on a List of tabs.
TyDraniu said
You should be on a New Tab page, or on any website, not on a List of tabs.
Thank you for your reply, but I can't find a 3-points menu on either a new tab or any web page since this function was changed. All i can see at top right ia the priva y mask. The help page on my link above is only good to deceive people. This is really a very upsetting situation.
Please see attached screenshots.
Sorry for the delay and thanks for trying to help.
As you can see from the attached picture, I do not have the same as you. I belive I better change my browser version. This screenshot comes after selecting Bookmarks from the main menu, as your screenshot on the right hand side.
Chosen Solution
But you have there a New Folder icon. What is the issue then?
I see... but that is different from what we can read on the help page I mentioned on my first post. Therefore, I dimissed the text there. Anyway you did hep, even if on my screenshot the menu is also different from the same help article. Thanks a lot.