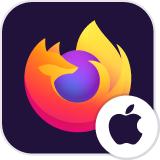 Firefox crashes on Iphone (not due to IOS). I've tried everyting
My Firefox crash on my iPhone (IOS 16.2) since 108 update BUT ONLY when I connect/sync to my account (if I don't try to connect to account it works fine, but its then quite useless). Each time I reconnect =) CRASH (pop up says "hum firefox as crashed. do you want to reopen? I click ok = it recrashes again and again) I'm getting to you as I've tried ALL solving problem issues I could find but none seems to work. Basically I have: - Desinstalled and reinstalled the App (from store or link) 10 times already. - "Repaired" my Firefox account on PC in case it had someting to do with it. - Posted the issue on Apple IOS support which answered that if it runs ok on Mac PC then pbm come from Mozilla not IOS. - Posted the issue on French Mozilla support 5 days ago and get no answer NOTHING works and I can not get a crash report as FIrefox is not accessible once it has crashed right? Can any one help please? Thanks
My Firefox crash on my iPhone (IOS 16.2) since 108 update BUT ONLY when I connect/sync to my account (if I don't try to connect to account it works fine, but its then quite useless). Each time I reconnect =) CRASH (pop up says "hum firefox as crashed. do you want to reopen? I click ok = it recrashes again and again) I'm getting to you as I've tried ALL solving problem issues I could find but none seems to work. Basically I have: - Desinstalled and reinstalled the App (from store or link) 10 times already. - "Repaired" my Firefox account on PC in case it had someting to do with it. - Posted the issue on Apple IOS support which answered that if it runs ok on Mac PC then pbm come from Mozilla not IOS. - Posted the issue on French Mozilla support 5 days ago and get no answer NOTHING works and I can not get a crash report as FIrefox is not accessible once it has crashed right? Can any one help please? Thanks
Modified by Isa
All Replies (5)
Hi
I am sorry to hear that Firefox for iOS is crashing. I hope that we can help resolve this for you. Before following the steps below, please make sure that you have updated both your iOS device and Firefox for iOS to the latest versions available.
As a first step, close down many of the tabs that you have open to as few as possible. Does this help reduce the incidence of a crash?
If this does not resolve the issue, open the iOS Settings app, select General then iPhone Storage. Find Firefox and select Offload App. Does this help?
Failing that, we will need to look into this in more detail with some logs from inside your copy of Firefox for iOS. This article will walk you through getting both crash logs and Firefox logs. When you have them, please file them here (a GitHub account is required) so that our developers can look into this further for you.
I hope that this helps.
Hi Isa
Thank you. It looks like our developers are looking into this and will post updates to that ticket when they have them.
Chosen Solution
Yes I've seen this. Tks for the great help