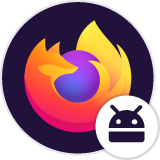 android download
'Firefox will not download files from most websites (including discover.com and chase.com). How can I get this done?' for 'Firefox for Android'
'Firefox will not download files from most websites (including discover.com and chase.com). How can I get this done?' for 'Firefox for Android'
Chosen solution
Got it, enhanced tracking protection exceptions and the share deal works and pretty easy, Thanks TyDraniu and Paul
Read this answer in context
👍 0
All Replies (10)
Hi
What happens when you try to download files from those sites? Is there any error message?
No error message, puts the file in a window or tab I can see but nothing I can do with that and not downloaded. Sites where it works gives me a download box at the bottom, click it and the download happens just like before, this is new, it worked fine just a couple weeks ago.
Are the files available in the downloads folder on your Android device?
You can download it using the Share option.
I tried the share option already, but I only got a label for the file, not the file itself. Even if that worked, it is ridiculous to go through all that to perform such a basic task. If that is the solution, then the actual solution is to get rid of firefox and use another browser. I hate crome but at least it works.
In addition to the download problem I'm also having difficulty with Bass Pro Shops website, if I try to sign on or place an item in my cart, it freezes the site, impossible to work with. I suspect these issues are due to a recent update as none of this was trouble I think even a couple weeks ago.
What version number of Firefox for Android do you have installed?
What level of enhanced tracking protection do you have set?
Do you have any add-ons installed?
111.1.1 Standard No Add ons
Chosen Solution
Got it, enhanced tracking protection exceptions and the share deal works and pretty easy, Thanks TyDraniu and Paul