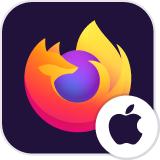 Closing all private tabs does not delete sessions
Hi everyone!
Maybe someone can help me with my question.
If I use Firefox for iOS in private mode, it seems closing all tabs won't remove the active sessions. I have to close the app completely to remove them.
For example: I visit Firefox Help in private mode and log in. Afterwards I close all open private tabs. If I visit the website again, I am still logged in.
Only if I close the app completely, no matter if I close the tabs first or not, the session is reseted.
Is this behaviour a bug or the way it should work?
In Safari for iOS it works like I would have expected it, without the need to close the app or even all tabs. If I close all tabs of a specific website, the session is gone.
Kindest regards I like trees
Hi everyone! Maybe someone can help me with my question. If I use Firefox for iOS in private mode, it seems closing all tabs won't remove the active sessions. I have to close the app completely to remove them. For example: I visit Firefox Help in private mode and log in. Afterwards I close all open private tabs. If I visit the website again, I am still logged in. Only if I close the app completely, no matter if I close the tabs first or not, the session is reseted. Is this behaviour a bug or the way it should work? In Safari for iOS it works like I would have expected it, without the need to close the app or even all tabs. If I close all tabs of a specific website, the session is gone. Kindest regards I like trees