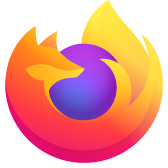 cannot open phone links in browser
i am trying to get google voice to open by clixling on numbers in webpages. i followed the directions here: https://support.google.com/voice/answer/11397414#google-voice-is-on and here: https://support.google.com/voice/answer/11397414#one-click-dialing but the problem is that in the Applications list in Settings there is no "tel" application type for me to set how can i get Voice to call the numbers in webpages?
All Replies (4)
What happens when you click a tel: link?
Normally, Firefox will pose two questions when you click a link with a protocol that doesn't open directly in Firefox:
(1) Does this site have permission to open tel links?
(2) What application should Firefox use to open tel links?
(Screenshot composite attached)
Firefox won't add an entry to the Applications list unless you use the checkbox to "Always use this application" in that second dialog. But if you want Firefox to ask you every time, then that isn't needed.

Does that line up with what you're seeing, or do you get an error message.
Okulungisiwe ngu jscher2000 - Support Volunteer
I didn't get a fix either. It doesn't even offer options of apps to open tel: links Worked one day, then not the next.
Interesting... Can you provide an example? I would like to see what happens.
I would suggest you clear your browser history / cache and log back into google voice. You should get a prompt and then see it in the settings. see screenshots