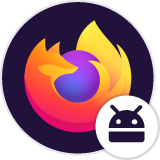 Download Manager In Firefox Andriod
Sir , in the FIREFOX browser app for Andriod there is no built in download manager , it is also not in add on store , this is a very important thing which you must give to us , in current version we are not able to pause and resume our downloads and to view with how much internet speed it's downloading , in countries like India we have very high data rates and also inconsistent and slow connections so when downloading a file which is pause and resume supported from the back-end side we are still not able to have pause and resume support in the Browser itself , firefox is a great browser but in this feature it gets beaten by the browsers like UC and it's not acceptable , i hope you improve this/
Sir , in the FIREFOX browser app for Andriod there is no built in download manager , it is also not in add on store , this is a very important thing which you must give to us , in current version we are not able to pause and resume our downloads and to view with how much internet speed it's downloading , in countries like India we have very high data rates and also inconsistent and slow connections so when downloading a file which is pause and resume supported from the back-end side we are still not able to have pause and resume support in the Browser itself , firefox is a great browser but in this feature it gets beaten by the browsers like UC and it's not acceptable , i hope you improve this/
Todas as respostas (2)
Hi
Thank you for your feedback. When I next have the opportunity, I will pass on your comments about a download manager for Firefox for Android to the development team.
It is worth mentioning that when downloading files to Firefox for android, you should be able to swipe down from the top the screen and have the ability to stop or pause a download within Android.
hi gaurav1999 and seburo: Firefox for Android used to have its own download manager; FF for Android now uses the standard Android file manager which *does* allow you to stop or pause using Android's download manager app.
Cheers! ...Roland