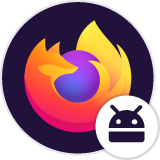 Firefox doesn't work
Websites don't load or show at all.
Websites don't load or show at all.
All Replies (8)
Hi
What is the version number of Firefox for Android that you have installed on your Android device?
What level of enhanced tracking protection do you have set?
Do you have any add-ons installed?
Version 114.1.0, standard tracking, and no add-ons.
Have you tried clearing the application cache from Firefox for Android and other apps on your device?
Open the Android Settings app, typically a cogwheel icon, select Applications and then clear cache (not storage!) in the different apps you have installed.
Does this help?
I have cleared the cache from Firefox several times. I don't know what other apps I need to clear the cache from that would affect the Firefox app. I still can't use the app. This started when the app got the new update. It is something about the update, not my phone.
Modified by Peter
Hi
In the Firefox for Android menu, under Settings, do you have HTTPS-Only Mode turned on? Is it enabled for all tabs or private tabs?
I have none of those settings turned on. But now that you have put another update thru, the app works. I told you it was your update and not my phone or settings.
Ok, great to hear that it is now working for you.