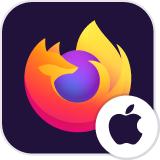 Pairing
When I activate the QR scanner on the Firefox UI on my iPhone to read the code on my laptop, iPhone Firefox says I used the iPhone camera and should use the reader from within the app. I did that as far as I can tell, so what went wrong? Can anyone please help me with this. Thank you
When I activate the QR scanner on the Firefox UI on my iPhone to read the code on my laptop, iPhone Firefox says I used the iPhone camera and should use the reader from within the app. I did that as far as I can tell, so what went wrong? Can anyone please help me with this. Thank you
All Replies (4)
Hey rory,
Can you take a screenshot of the exact error message?
Odabrano rješenje
Welcome!
Are these the steps that you followed which produced the above error? Scan QR codes in Firefox for iOS
Can you tell me more about what you were trying to do when you activated the QR Scanner on your phone? When you receive this error does the QR scanner still complete the task successfully?
I think I know what kind of problem you're having. This might relate to this bug.
Can you tell me which Firefox version you're using for the pairing on Desktop? Please note that pairing is only supported in Firefox 67+.
Hi
I tried again today and it worked. I'm not sure what is different, except possibly that today I accessed the pairing code via firefox.com/pair as opposed to the link on my phone. It still said it ihad failed and that I was using the wrong camera, but it worked anyway. Maybe it was the bug you mentioned, but I'm not sure. My iPhone Firefox is version 32.0 and was installed two days ago. I'm not sure what Firefox 67+ might mean, but pairing worked!
Thanks for your time,
Rory