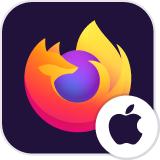 So what did you get from my phone? All of my pics? Email? Texts what did you take without asking
What did you take and what did you learn there are too many it just gives me a headache looking at all of them. So why the malware and stuff if I wasn't under artack Did I do the duck duck go what did I write about do I have apps or games? I'm not a stupid guy I business degree from a top university I just have some things so talk to me
What did you take and what did you learn there are too many it just gives me a headache looking at all of them. So why the malware and stuff if I wasn't under artack Did I do the duck duck go what did I write about do I have apps or games? I'm not a stupid guy I business degree from a top university I just have some things so talk to me
Все ответы (4)
Hi
I am sorry but I do not understand your question. How can we help you with Firefox for iOS?
You did in your scanning or we call it syncing of all of my files and pictures find Repositories of mine that Mozilla has acknowledged to be to be fact. What ever forum this is, it seems to be somewhat cold being there is real work discovered yet ignoring the circumstances not of the sync of me not being able to help myself in this matter do to what I've also yet to have diagnosed as well. They are the same, I don't have a qualified individual letting me know more than a drop in the bucket. I'm asking for more information being they have it all. And why won't any of my screenshots load?
The Firefox sync only does the what is mentioned in https://support.mozilla.org/en-US/kb/how-do-i-choose-what-information-sync-firefox
Neither Seburo nor myself did any scanning as we are not employed by Mozilla and Mozilla did not do any scanning also as they take users Privacy very seriously unlike some certain ahem big companies.
Again this is a community forum and not some sort of chat system with Mozilla or such. Mozilla does not provide any one on one chat by chat, email, phone for free to use web browsers and neither does any other companies with free to use web browsers.