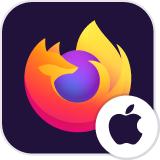 Redirects with Firefox on iPhone 7+
I believe my iPhone 7+ and/or Firefox has been infected with a redirection virus. I can no longer access my Amazon account. Instead it gets switched to a Spanish language version of Amazon. I get other frequent redirects as well. Sometimes my keyboard speed drops to only one character per several seconds. I have deleted my browsing history in Firefox. Safari seems to be relatively unaffected. I am running all current versions of iOS and Firefox. Any and all assistance greatly appreciated!! Thanks, Mark
I believe my iPhone 7+ and/or Firefox has been infected with a redirection virus. I can no longer access my Amazon account. Instead it gets switched to a Spanish language version of Amazon. I get other frequent redirects as well. Sometimes my keyboard speed drops to only one character per several seconds. I have deleted my browsing history in Firefox. Safari seems to be relatively unaffected. I am running all current versions of iOS and Firefox. Any and all assistance greatly appreciated!! Thanks, Mark
All Replies (3)
Hi
Have you installed any other apps on your iOS device recently?
The frequent redirects and warning messages seem to have mitigated themselves. I went through several cycles of reboots which seems to have helped. The keyboard still occasionally "hangs up" for as long as 10 seconds or so. Then whatever buffer the characters are stored in empties out and all returns to normal. I have installed several new apps - one from Home Depot and a newer version of DuckDuckGo. They seem to be functioning properly.
Ok, thank you for letting us know. Please come back here or to the Apple support team should this issue reappear.