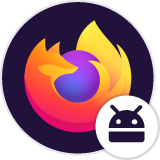 split-screen
Firefox does not support split-screen display in Huawei device android, fix my problem please
Firefox does not support split-screen display in Huawei device android, fix my problem please
All Replies (17)
Hi
What happens if you long press on the open apps icon? That should cause the display to be a split screen.
I use Huawei Nova 7i phone, it's different to use split-screen and when I want to use that, it's seys firefox does not support split-screen display Try it please, could you fix that in next version? Sorry for my bad English
Hi
Are you trying to split the Android screen or trying to make two copies of Firefox appear?
Just split-screen display,my Huawei device support split-screen.
Are you long pressing on the right hand Android icon?
I used that but it didn't work because it's different for me, look I know how to use split-screen but it doesn't work for Huawei Nova 7i, just look at the image, when I want to use split-screen I received this error.
Modified by javadasadian395
Can you solve my problem?
Can you try another app that allows you to add shortcuts to the homescreen?
No I don't need shortcut. I am trying to split the android screen and I know how to do it but it doesn't work for firefox. could you try Firefox's split-screen on Huawei nova 7i? You will see this error if you try it
Apologies - do you have another app that you can try to open split screen?
Where did you download Firefox for Android from to your device? That Firefox icon does not look correct.
1:No I don't have, can you suggest me an app? 2: because I used icon pack on my phone
Can you try without that icon pack?
Are there any other customisations you have made to your device?
1:I tried it on my brother's phone (he has Huawei Nova 7i too)without icon pack and it didn't work I tried it on my mom's phone (Samsung Galaxy j5 pro) and it worked without problems This problem only exists for this phone.
2:No
Modified by javadasadian395
Could you reply my question???
Hi
I have raised a ticket with our developers to look into this further. You can follow this and add comments at:
No problem, hope this gets the issue looked into and resolved.