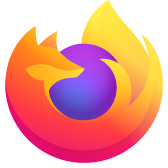 BOOKMARKS
Is there a way to single space my Bookmarks so I will have more room
Is there a way to single space my Bookmarks so I will have more room
所有回覆 (9)
Hi, do you mean in a drop-down list from either the
Bookmarks Toolbar
(menu bar) Bookmarks
optional Bookmarks Menu toolbar button ()
You can try Compact Mode: Compact mode workaround in Firefox.
Does that work?
If you meant the Bookmarks Sidebar, Compact Mode might not help with that, I can't remember.
What I mean is: When I want to add a Bookmark to the dropdown list, all my bookmarks are double-spaced. I just want to know how to single space them.
Could you test the change I mentioned and see whether it changes the dropdown list you are referring to.
It sounds so complicated; is there an easier solution?
In Firefox 93 and later releases support to reduce the menu spacing via "Density: Compact" on the Customize page has been added.
Note that "Compact" is no longer present by default as a Density choice in Customize, so you need to flip a pref to true on the the about:config page.
about:config => browser.compactmode.show = true
You can open the about:config page via the location/address bar. On the warning page, you can click "Accept the Risk and Continue" to open about:config.
I got to the part where it says, "for advanced users only" and I am not an advanced user so I didn't proceed any further.
No one starts out as an advanced user. We all learn as we go. As long as you keep track of what you changed in the Configuration Editor, you should be able to undo it if it doesn't work out.
Is it possible for Firefox to do another update that will change the Bookmark spacing back to "single" again. After all, I did not choose for Bookmarks to be dbl. spaced; it was done with an old update.
I think it was last changed more than two years ago when there was a major redesign. Maybe it will change again if there is another major redesign in the next couple of years. But you probably don't want to wait that long...