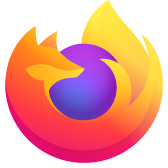 search bar size
I use a separate search box and address box. I place my search box in the menu bar line. Today, I 'upgraded' fro firefox104.0.2 to 106.0.2, and now find the search box is quite small and I can't length it. In all prior versions, the search box would use all the free space in the menu bar line. How can I lengthen it ? Thanks
I use a separate search box and address box. I place my search box in the menu bar line. Today, I 'upgraded' fro firefox104.0.2 to 106.0.2, and now find the search box is quite small and I can't length it. In all prior versions, the search box would use all the free space in the menu bar line. How can I lengthen it ? Thanks
Alle Antworten (10)
The classic method to modifying the length of the optional Search bar is:
(A) Use Customize to place the Search bar immediately to the right of the Address bar, then close Customize. (B) Hover the mouse pointer between the two bars until it turns into a double-headed arrow, then click and drag left to enlarge the Search bar. (C) Use Customize to move the Search bar back to where you prefer it.
Does that method still work?
I can adjust the length of the bars by placing the cursor between them. I do not have to use Customise. That only works if the bars are on the same toolbar. In this case, the search bar is evidently on a different toolbar.
Geändert am von Terry
The search bar has a flex attribute and adjusts automatically to fit the available space if I drag the search bar from the Customize palette to the Menu bar.
Start Firefox in Troubleshoot Mode to check if one of the extensions ("3-bar" menu button or Tools -> Add-ons -> Extensions) or if hardware acceleration or userChrome.css is causing the problem.
switch to the DEFAULT theme: "3-bar" menu button or Tools -> Add-ons -> Themes
do NOT click the "Refresh Firefox" button on the Troubleshoot Mode start window
Thanks to all. In troubleshoot, the searchbar does expand. But, when I restart,and even disable all addons , it does not expand. I am using the default 'dark' theme--and switching to 'light' is not of any help. I do have hardware acceleration turned off. When I go back to Firefox 14, I do not have an issue --so I think i will stay with that and wait for another update. Again, I appreciate all the replies.
I've seen it for a while. I guess it has been fixed for me at some point.
Are there any other controls on your menu bar that might be affecting the search bar? If nothing is visible in Customize, you also could look here:
(1) In a new tab, type or paste about:config in the address bar and press Enter/Return. Click the button accepting the risk.
More info on about:config: Configuration Editor for Firefox. The moderators would like us to remind you that changes made through this back door aren't fully supported and aren't guaranteed to continue working in the future. Since we are conducting "read only" research, I feel comfortable mentioning it.
(2) In the search box in the page, type or paste browser.uiCustomization.state and pause while the list is filtered
(3) Press Ctrl+F to open the Find bar and search for menubar -- the first match should be in this area:
... "toolbar-menubar":["menubar-items","search-container"],"TabsToolbar":[ ...
Does your toolbar-menubar array list other controls between "menubar-items" and "search-container", or after "search-container"? If so, what are they? We could experiment to see whether they affect the search bar on other systems (or just in your profile).
there are many items after "search container": "TabsToolbar":["tabbrowser-tabs","new-tab-button","alltabs-button"],"PersonalToolbar":["personal-bookmarks"]},"seen":["developer-button","_d10d0bf8-f5b5-c8b4-a8b2-2b9879e08c5d_-browser-action","jid1-jjjr0f2lg5yytf2dd_jetpack-browser-action","_0545b830-f0aa-4d7e-8820-50a4629a56fe_-browser-action","jid0-odikjs9b4it3h1nylpkr0ndtlue_jetpack-browser-action","jid1-93wyvpgvxzgatw_jetpack-browser-action","_80f6f2e4-eda1-417f-bf54-9645e1e20f5d_-browser-action","jid1-93cwpmrbvpjrqa_jetpack-browser-action","canitbecheaper_trafficbroker_co_uk-browser-action","amptra_keepa_com-browser-action","enhancerforyoutube_maximerf_addons_mozilla_org-browser-action","jid1-niffy2ca8fy1tg_jetpack-browser-action","_d1b377eb-1b72-4aaa-a724-ba69bbac9a34_-browser-action","jid1-nmve2op40qeqdq_jetpack-browser-action","_b2b71fbe-73c1-4b90-82fb-a1255bab1a55_-browser-action","save-to-pocket-button","abb_amazon_com-browser-action","_4ce83447-8255-43c2-b8f7-e02eb8c2cc39_-browser-action","private-relay_firefox_com-browser-action","info_virustotal_com-browser-action","_b9acf540-acba-11e1-8ccb-001fd0e08bd4_-browser-action","jid1-zadieub7xozojw_jetpack-browser-action","_8620c15f-30dc-4dba-a131-7c5d20cf4a29_-browser-action"],"dirtyAreaCache":["nav-bar","toolbar-menubar","TabsToolbar","PersonalToolbar"],"currentVersion":18,"newElementCount":65}
Oops, I was not clear enough. I meant anything extra in the bracketed list BEFORE TabsToolbar:
... "toolbar-menubar":["menubar-items",HERE?,"search-container",HERE?],"TabsToolbar":[ ...
thanks-- no ; and nothing has been added nor changed between firefox 104 and this one - 106