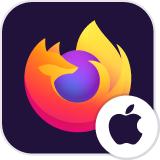 Mavic Pro
Hi I am looking to buy a few Batteries for my Mavic Pro who can help me with information were to get it please
Buks ...
Hi I am looking to buy a few Batteries for my Mavic Pro who can help me with information were to get it please Buks ...
Izmjenjeno od strane James
All Replies (1)
Sorry but neither the company Mozilla nor this forum has anything to do with any drones or the company DJI. I would think forums dedicated to drones for things like help in keeping new and old drones working would be more appropriate.
This section is for support of Firefox for iOS (iPhone/iPad).
Izmjenjeno od strane James