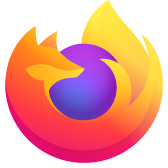 internet download manager
using firefox version 109 and my internet down load manager no longer works, it works in other browsers but not since updating firefox. not sure if i was successful in posting this request prior to this one so will give it another try. thanks
using firefox version 109 and my internet down load manager no longer works, it works in other browsers but not since updating firefox. not sure if i was successful in posting this request prior to this one so will give it another try. thanks
被選擇的解決方法
thanks for your reply have already contacted idm and waiting on answer. thanks again
從原來的回覆中察看解決方案
👍 0
所有回覆 (6)
Which download manager? I would assume that it has not been updated recently.
it's called just that internet download manager have had this for over 5 years. have the latest version of it as well as the latest version of firefox. it does work in other browsers but not firefox. it seems to me that in the past there have been problems with the interaction of internet download manager and firefox after an up grade of either programs. perhaps the moderators or developer's may be able to shed some light on this. however not sure what to do to restore idm and what is causing the problem. thanks
Post a screenshot of it in your add-ons.
here is the info you requested
For Addon issue you need to contact the IDM support about their extension issues.
選擇的解決方法
thanks for your reply have already contacted idm and waiting on answer. thanks again