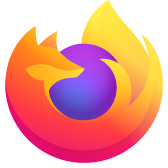 I'm trying to do my fasfa loan application and it's saying the version I have is not supported, I cannot find 3.5 or 3.6 to download on your site
In trying to download the application to fill out for a fasfa student loan, it's saying "An Incompatible Browser Has Been Detected Your Web browser is not supported by our Web site. You must use a Compliant Web Browser - Standard* to view our site properly. We recommend you upgrade to the latest version of your browser according to your Operating System. " I have firefox already, these are the compatible browsers
Supported Mozilla Firefox browsers: Windows XP - Mozilla Firefox 3.5.x and 3.6.x Windows Vista - Mozilla Firefox 3.5.x and 3.6.x Windows 7 - Mozilla Firefox 3.5.x and 3.6.x Macintosh Operating System 10.5 - Mozilla Firefox 3.5.x and 3.6.x Macintosh Operating System 10.4 - Mozilla Firefox 3.6
I have windows xp so I don't know what to do
In trying to download the application to fill out for a fasfa student loan, it's saying "An Incompatible Browser Has Been Detected Your Web browser is not supported by our Web site. You must use a Compliant Web Browser - Standard* to view our site properly. We recommend you upgrade to the latest version of your browser according to your Operating System. " I have firefox already, these are the compatible browsers Supported Mozilla Firefox browsers: Windows XP - Mozilla Firefox 3.5.x and 3.6.x Windows Vista - Mozilla Firefox 3.5.x and 3.6.x Windows 7 - Mozilla Firefox 3.5.x and 3.6.x Macintosh Operating System 10.5 - Mozilla Firefox 3.5.x and 3.6.x Macintosh Operating System 10.4 - Mozilla Firefox 3.6 I have windows xp so I don't know what to do
Todas las respuestas (1)
The fafsa.gov site does not currently support Firefox newer than version 3.6.x. That is their choice.
You can install Firefox Portable version to use only on that site and use your installed Firefox 5 for everything else. Firefox Portable installs in a separate folder on your hard drive so that it does not interfere with your Firefox 5.0.1 settings or personal information (bookmarks, passwords, etc.). You can also install Firefox Portable on a USB/thumb/pin drive.

If this reply solves your problem, please click "Solved It" next to this reply when signed-in to the forum.
---
Not related to your question, but...
You need to update some plug-ins: