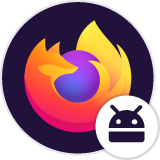 Can't use/install certificates on firefox mobile. / No puedo usar los certificados en Firefox móvil.
I have installed the certificate on my Android device and I can use it with Chrome but I cant use with Firefox mobile and I cant found the way to import it to Firefox.

Tengo el certificado instalado en android y funciona perfectamente en Chrome pero no funciona en Firefox. Tampoco consigo encontrar como importarlo.
Un saludo,
I have installed the certificate on my Android device and I can use it with Chrome but I cant use with Firefox mobile and I cant found the way to import it to Firefox. Tengo el certificado instalado en android y funciona perfectamente en Chrome pero no funciona en Firefox. Tampoco consigo encontrar como importarlo. Un saludo,
Modificadas por nircof el
Todas las respuestas (1)