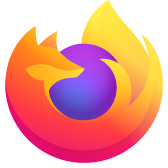 The website I'm trying to obtain says I don't have a compatible version of firefox I need 3.0 and I have 6.0
I'm trying to obtain the student financial aid website and it tells me that my version 6.0 of firefox isn't a compatible browser. Please tell me which one I need and can I download it for free? I guess 3.0
I'm trying to obtain the student financial aid website and it tells me that my version 6.0 of firefox isn't a compatible browser. Please tell me which one I need and can I download it for free? I guess 3.0
All Replies (5)
I think 3.6 should work fine as well. Try downgrading Firefox to version 3.6 until the site supports newer versions of Firefox. If that doesn't work, try an alternative browser such as Internet Explorer or Chrome for this website.
No need to downgrade.
You can install Firefox Portable version to use only on that site and use your installed Firefox 6 for everything else. Firefox Portable installs in a separate folder on your hard drive so that it does not interfere with your Firefox 6 settings or personal information (bookmarks, passwords, etc.). You can also install Firefox Portable on a USB/thumb/pin drive.

If this reply solves your problem, please click "Solved It" next to this reply when signed-in to the forum.
---
Not related to your question, but...
You need to update some plug-ins:
SafeBrowser மூலமாக திருத்தப்பட்டது
Oh yes, never thought of that ;-)
I work assisting people with this issue. The problem is Firefox 6 is new, and not compatible with some website. Unfortunately, Firefox does not offer a compatibility button like IE does. Get with it Firefox, do not let the Evil Empire outclass you like this... Plus it would make my life much less stressful!!
Firefox doesn't need a "compatibility" button like IE has. Unlike older versions of IE, Firefox has always been compatible with the current web standards.
Plus, with the FAFSA website it isn't a case of a Firefox 4+ version not working, that website is incorrectly "sniffing" the browser version being used and rejecting anything above Firefox 3.6.x versions. Some users have posted that they changed the UA to an older version of Firefox and the FAFSA website worked for them with either Firefox 4 or Firefox 5.