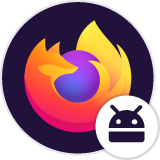 Facebook
Why in this browser only Facebook shows pages like this instead of the normal dark mode? This problem does not exist in other browsers, it only happens on Facebook
Why in this browser only Facebook shows pages like this instead of the normal dark mode? This problem does not exist in other browsers, it only happens on Facebook
Все ответы (18)
Hi
This does not sound like an issue with Firefox for Android, but is something that the Facebook support team should be able to help you with.
But only in Firefox it doesn't work well, in other browsers it's no problem
How is it displaying in other browsers? Are you able to provide a screenshot?
This is what it looks like in other browsers (first photo) and it looks strange in Firefox (second photo)
I do know that Facebook serves better quality images to Chrome than to Firefox - this is something that we have seen in the past. it is not very fair on you as a user - you should be able to choose the browser and expect Facebook to display properly in it.
So I have to change the browser to one that will not have such problems, in short, to any other
This is more of an issue for the Facebook support team as to why they display images this way on other browsers. Best practice is to design, build and test a site to work on the most likely browsers and to use open web standards to make sure that everyone has a good experience of the site.
No other browser has this problem, only Firefox
Is this problem only happening with Facebook?
Only on Facebook this is a problem and only with the Firefox web browser, I have tested many browsers and there is no such problem in any of them (maybe it's the fault of this Firefox dark mode add-on?)
What happens when you change from the dark mode in the customise option in the settings?
everything is fine, i haven't fiddled with the settings anywhere. This problem showed up two weeks ago I have a Motorola One Zoom
Okay, so I am not sure about the dark mode add-on that you mention. What happens if you turn that off?
then all pages are white and I have to have dark mode on websites because I have an OLED display
This is how it should work properly
If this issue is only happening on the Facebook website, then this is a Facebook issue that you will need to contact their support team about.
other browsers don't have this problem, which is why Firefox is giving up
Hi,
The people who answer questions here, for the most part, are other users volunteering their time (like me), not Mozilla employees or Firefox developers.
If you need to file a bug report or feature request for Firefox and other Mozilla products, see File a bug report or feature request for Mozilla products for details.