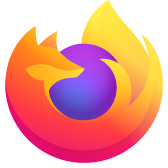 Визуальные закладки не работают в Firefox 102.0.1
Здравствуйте! У меня после обновления Mozilla Firefox 102.0.1 (64-бит) перестало работать расширение Визуальные закладки. На компьютере - два пользователя и у обоих такая проблема. Пожалуйста, исправьте в следующем обновлении. С уважением, Ольга
Здравствуйте! У меня после обновления Mozilla Firefox 102.0.1 (64-бит) перестало работать расширение Визуальные закладки. На компьютере - два пользователя и у обоих такая проблема. Пожалуйста, исправьте в следующем обновлении. С уважением, Ольга
All Replies (4)
Is that from Firefox or third party app?
Réiteach Roghnaithe
Hello, Dropa,
Визуальные закладки were a Yandex app
Yandex app is separate app from firefox you'll want to check their site out for any issue related to their app. Also extensions not default from FireFox you should contact their app support to why it's not working on latest firefox version.
Thank you very much for the explanation, I'll try to contact Yandex.