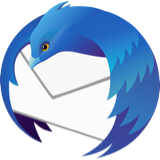 SMS and I message issue
Unable to receive sms or i messages on thunderbird using Win 10 desktop pc
Unable to receive sms or i messages on thunderbird using Win 10 desktop pc
Alle Antworten (7)
Are you referring to text messages that are converted into email messages? If so, what error messages are you seeing?
Thank you for reply. Am sending text using both i message and SMS from iphone to Thunderbird on pc. iphone flags message sent to email but nothing is received. No error or other messages.
I suggest you check in your mail account using a web browser and see if they are there. Perhaps in a folder that is not subscribed in Thunderbird.
Thank you for the reply Perhaps I should start again. To clarify. I have not used the SMS and Imessage service before. Looks like Thunderbird is not converting these messages. Have browsed the internet for an app which would receive and convert with little success. Have checked as far as I can but no trace of messages. Thanks for your help
Just to clarify: Thunderbird does not convert the messages. Instead, such messages appear in inbox at server as email messages prior to being retrieved by Thunderbird.