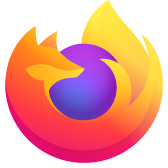 Bookmarks Bar collapses when navigating to any site & only accessable when in a new tab
Having issues with any tab that I open and navigate to a website that the bookmarks bar just disappears and I have to open an new tab that is not used just to get access to the bookmarks bar.
Not for sure why it collapses itself when actually browsing and was not for sure if there was a solution to fix this. I had searched online and could not find any solutions or anyone that has had the same issues.
I have attached screenshots of the difference between a new tab and a tab with a site opened
Help is appreciated, Thanks
Having issues with any tab that I open '''''and''''' navigate to a website that the bookmarks bar just disappears and I have to open an new tab that is not used just to get access to the bookmarks bar. Not for sure why it collapses itself when actually browsing and was not for sure if there was a solution to fix this. I had searched online and could not find any solutions or anyone that has had the same issues. I have attached screenshots of the difference between a new tab and a tab with a site opened Help is appreciated, Thanks
All Replies (1)