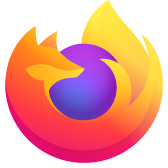 Drop Down Menu unusable after last update
The last update changed all my drop down menus to a dark color. I can't even see the line separators in my bookmarks. My Firefox page is also dark and ugly. Right now, when at work, I have to use another browser because I can't do my work with these dark drop down menus, the text is unreadable. Why did you guys do this? FYI: My PC uses Windows 7
The last update changed all my drop down menus to a dark color. I can't even see the line separators in my bookmarks. My Firefox page is also dark and ugly. Right now, when at work, I have to use another browser because I can't do my work with these dark drop down menus, the text is unreadable. Why did you guys do this? FYI: My PC uses Windows 7
All Replies (4)
What theme are you using?

Type about:addons<enter> in the address bar to open the Add-ons Manager. Hot key; <Control> (Mac=<Command>) <Shift> A)
On the left side of the page, select Appearance or Themes. Then select Default or System theme — auto. Now restart Firefox.
Your fix did not work. When I selected the default theme and restarted Firefox, the drop down menus returned to normal. However, when I switch to a holiday theme, they went back to black. So I tried another theme, and the same thing. Apparently the only theme that now works is the default theme, which is odd because we have thousands of custom themes available to us but now only one works, the one I like the least. I cannot do my job at home because I cant see the choices in the drop down menu. I'm temporarily using Chrome while I wait for you guys to figure out what you did wrong in the last update. Please get this fix right away before the Christmas season has passed.
You can change this pref on the about:config page from 3 to 2 to revert to the Firefox 94 behavior.
*layout.css.prefers-color-scheme.content-override
Dark (0), light (1), system (2) or browser (3)

You can open the about:config page via the location/address bar. You can accept the warning and click "I accept the risk!" to continue.
See also this pref:
ui.systemUsesDarkTheme [0:light; 1:dark; 2:no-preference]
That solves about half the problems. Many pages had dark background including my Firefox page. Those reverted back to white, however my drop down menus still have a black background making the options inside difficult to read.