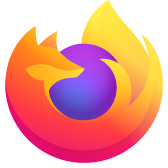 dark mode
I'm trying to give Firefox an honest shot, coming from Safari on a Mac.
My system is set to dark mode and generally everything works as it should. Darkness everywhere, which is good.
In Firefox I have set the theme to dark but the folders in my bookmark bar are light with darkish text. Also the "Save page as..." dialog is light background with dark text.
What I need is white text on a dark background.
Is this possible or should I move on to another browser?
thanks in advance
I'm trying to give Firefox an honest shot, coming from Safari on a Mac. My system is set to dark mode and generally everything works as it should. Darkness everywhere, which is good. In Firefox I have set the theme to dark but the folders in my bookmark bar are light with darkish text. Also the "Save page as..." dialog is light background with dark text. What I need is white text on a dark background. Is this possible or should I move on to another browser? thanks in advance