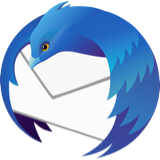 Thunderbird Menu Options missing
I have no usable Menu options at the top of the Thunderbird email screen. I hit a wrong key yesterday and things such as Write, Reply, Print, Send, Delete, Junk, etc. have disappeared. I read some possible things to help but I do not have III on the upper right of my screen and pressing Alt when opening Thunderbird also does not work. HELP!
I have no usable Menu options at the top of the Thunderbird email screen. I hit a wrong key yesterday and things such as Write, Reply, Print, Send, Delete, Junk, etc. have disappeared. I read some possible things to help but I do not have III on the upper right of my screen and pressing Alt when opening Thunderbird also does not work. HELP!
Isisombululo esikhethiwe
If you don't really need the picture, let's stop now. I don't remember how I got it to Desktop last night. I have everything I had before this all happened and I just want to thank you from the bottom of my heart for your kindness and patience You've taken me to territories I've never been to and hope to never need to be again. I'm sending you a BIG HUG and sincere thanks, Dan. Kathy
Funda le mpendulo ngokuhambisana nalesi sihloko
👍 0
All Replies (20)
Try a rightclick near top of screen to see of an option of 'menu bar' shows up. Also, try the 'alt' button again after Thunderbird starts.
I already tried the right click several times. Nothing happens at all. I also tried the Alt button many times, and again, nothing happens. Thanks for replying though.
Might try clicking on View on the main menu bar, then Toolbars -> Mail Toolbar and/or any others that might be missing. But it you're missing the main menu bar and right-clicking doesn't give you an option to show it.. then.. hmm.
I don't have View on the tool bar. Only things there are Unread, starred, contact, tags and attachment. Things describing the various types of messages I have. I've been fooling around with it and just discovered that if I right click on a message itself that brings down a menu the includes Delete so I've been able to get rid of messages I don't need, but that drop down doesn't have Write, so I still can't create a message. It does include Delete, Reply to Sender only, Forward, Save as and Print. There are a few more that I don't understand the function of, but for now I can at least delete junk mail that comes in. This is crazy. Thanks for your suggestion.
We're trying to come up with a solution for you, but we need to see what you're seeing. Could you please attach a screenshot to your reply, showing roughly the portion of the TBird screen you see in my screenshot?
I'm 83 years old and don't know how to do a screenshot, but did find the prt sc key on my laptop. I read the instructions on how to do that now on one of your other Support sites, and I don't understand things like Microsoft Paint or PNG file but I will attempt to do what was said on that page. I don't know how to send that screenshot to you from there, but hopefully this will work.
Hang in there, Kathy! We're going to find you some help with this. First, I'd like to know what you're using as your operating system: Windows something? If so, can you tell me WHICH Windows you're using: Windows 7, Windows 8.1, Windows 10? Or are you using something other than Windows? If I am going to walk you through some instructions, I have to know a little more about your computer. Please look at this screenshot (just click on the small thumbnail picture to bring up a larger version), and see whether you can find the thing in the red circle on your Thunderbird screen (open in Inbox, to see the list of your mail today). Let me know, please.
I tried the prt sc key with the Alt key and without the Alt key and nothing happened either time. I forgot to mention that my screen does not have the symbol at the top-right side of the screen. I looked for that in the very beginning (the three horizontal lines). I have Windows 10.
OK. We're making some progress. When "nothing happened," what happened was that Windows 10 took a picture of your whole screen at that moment, and saved it to the Clipboard. What you need to do then is find a graphics program on your computer and open it and PASTE that clipboard image into the program. The easiest graphics program to find is built in to Windows 10, and it's called Paint. Would you click the Start button and look through the menus you see, and see whether you can find Paint? It may be in Accessories. If so, double-click the name to open it and put your pointer in the open white space, and right-click your mouse and choose Paste.
Wow! That looks just like my screen!
If this goes well, come on back and leave the Paint program open, but Minimize it (up top of your screen, choose the minus-sign, not the box or the X) and talk to me. Thanks.
I clicked on the button in the lower left corner of my screen (Microsoft symbol?) and went through the list of items on my laptop, but there was no Paint listed nor was there an option named Accessories. There was one called Access, but when I opened that, it didn't look like anything I could do the rest of your instructions on.
It was the Windows symbol, not Microsoft. Sorry'
I found Paint. I opened it and right-clicked on it. Nothing came up so I went back to Thunderbird and tried the screen print again and then went back to Paint and right-clicked on the white area again and nothing appeared.
Wait! I think it took it. I could see it behind the big white box on the Paint screen. Something just came up and I clicked on Desktop. I left the Paint program open.
I had forgotten to hit Paste. It's there now.
Yay for you! You did it!
Ok, now let's Save that picture as a file. Click File at the top of the Paint window, and choose Save As.... Choose JPEG Picture, and then, .... you have to choose a location to put that JPEG Picture in. If you can navigate to Desktop, that would be easiest, perhaps. Just save it somewhere you can find it.
Then when you are ready to post a reply HERE, go down to Add images (optional) and click Browse, and then see whether you can find that JPEG Picture you saved, and click its name, and click Open, and the picture will be part of your Reply. Click Post Reply.
If you run into any problems, just tell us what happened, and we can start from there and get you going again.
I'm on Eastern Time, and it's after 7 here, so I think I'll quit for tonight, but I'll be back tomorrow, so post that Reply and I'll pick it up and reply to it in the AM.
Don't worry about it. We'll get there.
Wow! I'll talk to you in the morning. Congratulations on a job well done!
Good morning. Hope your day goes well.
Look at my attached image. I think you will agree that what you see in the layout (not the messages or folder names) is the same as yours. You can look back and forth between your picture and my picture and compare them.
First thing I want you to do (assuming when you open Thunderbird it still looks the way you saw it when you took the picture with Prt Scr) is click the minimize icon (two boxes) up in the right-hand corner of the screen.
You should now see a smaller Thunderbird screen, and this one has the three-line menu control (the one in the red circle about ten messages ago) near the top right somewhere.
The problem seems to be that your screen in your picture cuts off the right-hand side of the Thunderbird window, making accessing the controls difficult.
We'll take it from there after you Reply to this and tell me whether you have the (red-circled in my picture above) three-bar icon.
And just before you reply, please try a quick press of your F10 key (near the top of the keyboard), and let's see whether you suddenly see the menu bar appear (with the words File Edit View Go Message Tools Help).
Please reply and report. We're making progress, I promise.
I don't get up as early as you do! It's 8:45 here right now and I'll be leaving for church in a few min. I won't be back online until 10:30 (11:30 your time). I will come right to the computer when I get home. Thanks. I read your instructions....hope I can keep up!!
Kathy,
Good Sunday and church to you. Don't rush back. I'll be here for most of the day. You should have your Sunday brunch/dinner/whatever before you tackle the computer again.
Blessings.
Dan