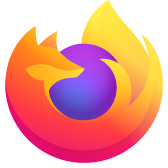 Change to new icon
Is there a way to change this icon(icon 1) to new icon(icon2,one in purple)
Is there a way to change this icon(icon 1) to new icon(icon2,one in purple)
All Replies (4)
You can check Firefox properties and if that icon is available you should be able to use it. Where did you get that second icon from?
If the Properties of the Firefox icon doesn't have that option then I don't think you can change it. I did a search and found a similar picture but it doesn't look like one can download or use it to what your asking?
That is the Firefox logo as used on the Firefox Account login page and is part of that page.
Why would you want to replace this image and the other is likely used on pages with a dark background or with dark mode enabled ? Here is another one:
chrome://branding/content/about-logo.png