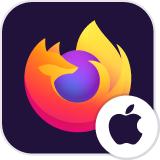 search times and page
Hello - I have two questions:
1. My seach icon defaults to the dearch bar - before I used to see the Google page with the search window in the center of the webpage - Is there a wau to change my setting to that as a default? 2. Search times on Firefox are taking longer than usual - is there a way to check why and speed this up? In internet speeds are higher than normal so I guess its not related to my internet speed. 3. Cn I talk to a firefox rep?
Thank you
Hello - I have two questions: 1. My seach icon defaults to the dearch bar - before I used to see the Google page with the search window in the center of the webpage - Is there a wau to change my setting to that as a default? 2. Search times on Firefox are taking longer than usual - is there a way to check why and speed this up? In internet speeds are higher than normal so I guess its not related to my internet speed. 3. Cn I talk to a firefox rep? Thank you