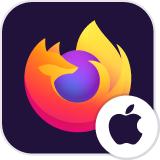 Can't report site not working
This site keeps showing a pop up, and there is no way to dismiss it! Also, there is no way to report the site as the ellipsis that is supposed to appear in the address bar isn't there!
The Report site needs to be in the burger menu!
https://www.officialcharts.com/charts/albums-chart/
Wait for the site to load, and after a few seconds, a pop up appears asking you if you want emails. If there's an X to close the pop up, I can't see it. If you click in the top right where you'd expect the x to be, it still won't dismiss
This site keeps showing a pop up, and there is no way to dismiss it! Also, there is no way to report the site as the ellipsis that is supposed to appear in the address bar isn't there! The Report site needs to be in the burger menu! https://www.officialcharts.com/charts/albums-chart/ Wait for the site to load, and after a few seconds, a pop up appears asking you if you want emails. If there's an X to close the pop up, I can't see it. If you click in the top right where you'd expect the x to be, it still won't dismiss