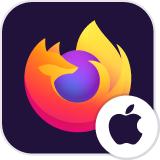 Autofill Passwords with Firefox iOS.
Hi all! I use 1Password as my main password management for my iPhone (I have it as my default). When I am on a website that requires me to fill my credentials, most of the time does not provide me the option to do auto fill. I have to exit Firefox iOS and copy and paste all the required info from the 1Password App.
In most of the other apps, the auto fill option shows on top of the keyboard.
Is there something I need to enable to get the auto fill option to constantly show?
I have attached pictures of what i am referring to below
Hi all! I use 1Password as my main password management for my iPhone (I have it as my default). When I am on a website that requires me to fill my credentials, most of the time does not provide me the option to do auto fill. I have to exit Firefox iOS and copy and paste all the required info from the 1Password App. In most of the other apps, the auto fill option shows on top of the keyboard. Is there something I need to enable to get the auto fill option to constantly show? ''I have attached pictures of what i am referring to below''