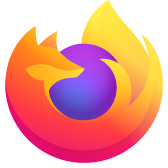 Streaming Audio onlone
Firefox V105.0 64bit Win10 Pro - when streaming Audio, data download is too slow. The Player eventually catches up with the downloaded data and simply Quits when there is none left. This has never been a problem before until this last update . . . . I have tried with Avast's Secure Browser and with MS Edge Browser and BOTH these stream WELL AHEAD of playback - so the problem doesn't arise . . . . With these two Browsers playing an 8 minute .mp3, by the time the player has reached 5 minutes, ALL the remaining data has been downloaded . . . . I made a video from the screen (Bandicam) but the <add images> doesn't allow it . . . . Any Ideas? Or perhaps I wait for the next update and hope it gets fixed . . . . ATB Chris
Firefox V105.0 64bit Win10 Pro - when streaming Audio, data download is too slow. The Player eventually catches up with the downloaded data and simply Quits when there is none left. This has never been a problem before until this last update . . . . I have tried with Avast's Secure Browser and with MS Edge Browser and BOTH these stream WELL AHEAD of playback - so the problem doesn't arise . . . . With these two Browsers playing an 8 minute .mp3, by the time the player has reached 5 minutes, ALL the remaining data has been downloaded . . . . I made a video from the screen (Bandicam) but the <add images> doesn't allow it . . . . Any Ideas? Or perhaps I wait for the next update and hope it gets fixed . . . . ATB Chris
All Replies (4)
Examples of the issue would be nice...
be glad to. Show me where I can upload an .mp4 file . . . . (4.14Mb) Chris
Boot the computer in Windows Safe mode with network support to see if that has effect in case security software is causing problems.
THANKS Cor-el . . . .
I tried Safe mode with Networking, but the player will then not function . . . . (Taskbar speaker bears an "x" - complaining <No Driver>)
I tried disabling Security (Avast AV) . . . streaming problem remains . . . .
perhaps if you try from where you are?
The link is: https://yamahamusicians.com/forum/viewtopic.php?p=105885#p105885
You should be able to access without signing up . . . .
Cheers
Chris