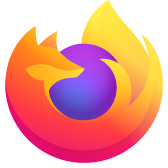 The tab bar and page of every site is messed up
Hello
I deleted Firefox I deleted my account But it is not fixed
Firefox layer and page

Every site I go to is like this
If you pay attention Microsoft browser The layer and the page are all the same
Thank you for your guidance
Hello I deleted Firefox I deleted my account But it is not fixed Firefox layer and page Every site I go to is like this If you pay attention Microsoft browser The layer and the page are all the same Thank you for your guidance
All Replies (2)
You can look at this thread:
/questions/1384204 SINCE THE LAST UPDATE, THE FIREFOX SCREEN DOES NOT FIT MY SYSTEM SETTING(125%)
---
You can create a new
Number
pref on the
about:config
page and set its value to 100.
about:config => ui.textScaleFactor = 100
You can open the about:config page via the location/address bar. You can accept the warning and click "I accept the risk!" to continue.
Thank you very much ;
I spent almost an hour and a half and 

it didn't work
But you suggested the right way Thank you very much