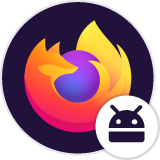 Android Firefox don't use autoconfigured proxy (WPAD)
Hi all, I've set up proxy auto configuration with wpad. And it's working, but not in every case: On my android (version 10) phone I can enter in the advanced options the "Proxy Auto-Config" with a PAC URL. This works, but only for Chrome. When I use Firefox, the proxy is not used. Any Idea why this is the case and how this could be resolved?
I also downloaded the nightly build. With about:config I can set the network.proxy.autoconfig_url. There I added the PAC URL. But the browser still don't use the proxy. Any idea how to make this working?
Cheers
Hi all, I've set up proxy auto configuration with wpad. And it's working, but not in every case: On my android (version 10) phone I can enter in the advanced options the "Proxy Auto-Config" with a PAC URL. This works, but only for Chrome. When I use Firefox, the proxy is not used. Any Idea why this is the case and how this could be resolved? I also downloaded the nightly build. With about:config I can set the network.proxy.autoconfig_url. There I added the PAC URL. But the browser still don't use the proxy. Any idea how to make this working? Cheers
All Replies (1)
Hi
Thank you for your feedback. This appears to be something that your developers have yet to look into further. You can follow progress on this and leave comments at: