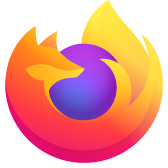 Heading size
I have very bad vision and can barely read the bookmars when I pull down the bookmark menu nor read the top a the different tabs. Is there a way to enlarge the top of the screen? I've look and can't figure out now to do it. Thanks in advance, George
I have very bad vision and can barely read the bookmars when I pull down the bookmark menu nor read the top a the different tabs. Is there a way to enlarge the top of the screen? I've look and can't figure out now to do it. Thanks in advance, George
All Replies (1)
I think the top menu bar on Mac -- the one with the Apple -- is styled by the system. However, I'm not sure about that. The text on tabs is definitely styled by Firefox. Here's a way to scale up the tabs and the rest of the browser:
Global Zoom Factor
The following setting governs both the content area and the "chrome" area (menus, toolbars, and tabs).
(1) In a new tab, type or paste about:config in the address bar and press Enter. Click the button promising to be careful.
(2) In the filter box, type or paste devp and pause while the list is filtered
(3) The layout.css.devPixelsPerPx usually has a value of -1.0 meaning "follow the system scaling." You can edit that to a positive number to set your own scaling.
Double-click the preference and change its value to 3.0 (if you have a Retina display) or 1.5 (if you do not have a Retina display) and then click the blue check mark button to save the change. What do you think? You can edit this value up and down as needed, but please be careful not to use too low a value because then everything will get really tiny. If necessary, the button at the right end of the bar will reset to the default and you can start again.
Can you find a level that works for you?