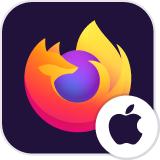 How do I upgrade browser
All Replies (2)
Hi AlbertTimme
To update Firefox: On your iPhone, tap the App Store icon. Tap the Profile/Account icon Find the Firefox update or you can press the update all button . Tap the Update button. Firefox is now up to date.
Very unclear...the instructions do not contain explicit directions...plus following these directions led me to places that did not exist as per above, at least where I was looking. Very annoying...this should be really simple...turns into a waste of time.
This request is for access to UPDATE to an existing copy of Firefox IOS version. Or do I remove app. (somehow) and reinstall to an an updated 'new" version?