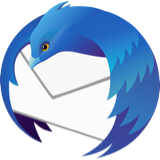 import emails from thunder bird to gmail
hi dear , i have emails in thunderbird PC storage , its about to 4GB i need to upload these emails into my gmail account i tried to upload , but thunderbird dont upload all emails , and fails its upload only limited numbers of emails
can you please help me with the solution ?
thanks
hi dear , i have emails in thunderbird PC storage , its about to 4GB i need to upload these emails into my gmail account i tried to upload , but thunderbird dont upload all emails , and fails its upload only limited numbers of emails can you please help me with the solution ? thanks
All Replies (3)
Thunderbird does not do will uploading more than a few email at a time. So you will have to just keep with the uploads.... or determine that gmail is not a suitable location to store your mail.
Mr matt , thanks for your reply in your opinion ,what's best the way to move my emails from thunderbird to gmail ?
thanks
Usually, people are asking how to get emails off the gmail server into Local Folders in order to increase their quota on server or get an independent backup that does not involve using gmail :)
If emails were in another webmail account then you could import directly server to server. This would be done via gmail webmail account and not via Thunderbird.
Emails can remain in Local Folders account and you would still see them, so uploading to a server is not necessary from that perspective. I suppose putting them into gmail means you can access via webmail or another imap account on another computer. I presume you do have plenty of available quota on gmail server. I believe Google gives users 15 GB of digital storage for free and that storage is shared among Gmail, Google Photos, and Google Drive. You mention uploading about 4GB, but did not mention what quota was already used in gmail account, so it's worth being aware of gmails limits.
If emails are in eg: 'Local Folders' mail account, then you select batches of emails, copy and paste into suitable gmail imap folder. Synchronisation needs to occur and each email is then uploaded, so it takes a while. If you have an Anti-Virus product scanning all outgoing files then it can slow the process. Suggest you restart the computer in 'Safe Mode with Networking' mode and then start up Thunderbird. It may be a bit quicker to upload if nothing is scanning the files first. Your internet upload speed may play a part in a slowdown if uploading larger emails with attachments.
Please note, there may be receiving limits imposed by gmail which may appear to slow down process. https://support.google.com/a/answer/1366776?hl=en https://support.google.com/mail/answer/22839?hl=en-GB
Basically, you need patience and keep tabs on not exceeding limits.