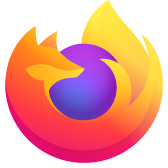 Amazon Fire Tablet
I was gifted an Amazon Fire Tablet to use for an upcoming hospital/rehab stay. I use Firefox on my desktop and Android phone and want to use it on my tablet, but the Amazon store doesn't have the app. Not sure I trust the Amazon Silk browser, but I may have no choice. I am not a tech savvy person! I don't know the difference between a bit, byte, or buttercup. If there is a way to install and use Firefox on my tablet, and sync with other devices, I would like to do so. Please explain how to do it as though you are talking to a 6 year old (who probably knows more about this stuff than I do, anyway). Thanks. rennylloyd
I was gifted an Amazon Fire Tablet to use for an upcoming hospital/rehab stay. I use Firefox on my desktop and Android phone and want to use it on my tablet, but the Amazon store doesn't have the app. Not sure I trust the Amazon Silk browser, but I may have no choice. I am not a tech savvy person! I don't know the difference between a bit, byte, or buttercup. If there is a way to install and use Firefox on my tablet, and sync with other devices, I would like to do so. Please explain how to do it as though you are talking to a 6 year old (who probably knows more about this stuff than I do, anyway). Thanks. rennylloyd
All Replies (4)
The tablet uses an Android-based system, which does not have built-in Google services, and thus no Google Play Store. If you want to easily download Android apps, use this guide to install the Google Account Manager, Google Services Framework, Google Play Services and Google Play Store on the tablet, all of which are necessary for the Play Store to function. (Basically, you download a few .apk files - basically Android application packages that can be extracted and run by tapping them in your file explorer (may be known as Documents on Kindle Fire). This is usually done in the background by the app store but you can do so manually if you allow installing apps from unknown sources is Settings→Security.) This option is preferred if you already have a Google account and want to easily download most Android apps, though the Google Play Store and related services will take up some storage (you can uninstall them but updates for your apps will no longer be taken care of). If you are low on storage, don't want a Google account, do not care about other apps or want to select an older version of Firefox, download Firefox's APK only (e. g. from uptodown.com, checked with VirusTotal) and use this guide to install it; it is quite straightforward. You can use this process for any Android app, but beware that unverified APKs may contain viruses or be other unwanted software, and some functions may not work without Google Play Services. Reply if you need any more help.
Isisombululo Esikhethiwe
Reply if you need more help. The procedure sounds complicated but is not that complex after all - hundreds of thousands of kids did it to install Fortnite.
I am shocked that I was actually able to do this!! Thanks Vaclav for the help and support. Slightly more complicated, only because the illustrations in the article were from an earlier version of Fire Tablet, but so well explained that I was able to find the correct pages, etc. on my newer one. I am in love with GoGeek, Mozilla, and Vaclav!  :) Ms. Renny Lloyd
Mozilla wanted to put the Android Firefox on the Amazon appstore as Mozilla did have Android Firefox 9.0 up there briefly (in end of Dec 2011?). However it was found that Amazon modified and resigned the apk which caused update problems so Mozilla pulled it shortly after. Mozilla has contacted Amazon many times about modifying this policy, so far Amazon has been unwilling with no progress on this since.
You may be able to side load the Firefox .apk file (use ARM version). However you will not get updates this way if the install even works.