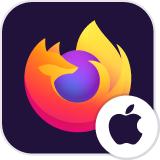 When open new tab, the URL bar displays the annoying QR code button instead of directly showing the regular "Menu" button
Hi,
On iPadOS, whenever I open a new tab, I have to tap again (ie, one extra hand/arm motion) to click the "left arrow" on the left of the URL bar to get the annoying QR-code box to go away and instead show what I really want access to: the synced-bookmarks tab for cross-device use and the Menu button.
This is just silly and annoying UI design — any way to get rid of this QR code button that is useless. I'm willing to bet that 99% of your users on iPadOS will not be scanning QR code's using their iPads.. (and 98% on iPhones will not be either)....

Thanks
Hi, On iPadOS, whenever I open a new tab, I have to tap again (ie, one extra hand/arm motion) to click the "left arrow" on the left of the URL bar to get the annoying QR-code box to go away and instead show what I really want access to: the synced-bookmarks tab for cross-device use and the Menu button. This is just silly and annoying UI design — any way to get rid of this QR code button that is useless. I'm willing to bet that 99% of your users on iPadOS will not be scanning QR code's using their iPads.. (and 98% on iPhones will not be either).... Thanks