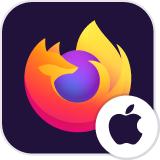 How do you update on a iPad the only choice is update and install there is no option for update only
Good evening how do you update Firefox on a iPad as the only option is to update and install once you click it takes you to just install there is no option to update
Good evening how do you update Firefox on a iPad as the only option is to update and install once you click it takes you to just install there is no option to update
All Replies (8)
Updating Firefox on iOS is the same as other apps on iOS. If there is an update available, it will appear in the updates tab in the app store, and you just tap the Update button next to it.
There's a tutorial at http://www.wikihow.com/Update-Apps-on-an-iPad that should help.
Is that what you were looking for?
Hi Chris thank you for your reply , but as much as you are correct firefox does regular updates IOS does not ,the last update on IOS was the 2nd of April but there has been updates since on the windows platform is there any other way of keeping firefox up to date rather than waiting for IOS to push the update through thanks Mark
Updates on the iOS version have nothing to do with updates on the Windows version. For example, the latest version for Windows is 45.0.2, and the latest version for iOS is 3.0. If you have 3.0 on your ipad, then you have the latest update for Firefox on iOS. :)
Hi Chris , thank you i didn't realise that , but unfortunately it doesn't solve my problem , im from ireland and we use a american p.o.s that runs through firefox i can access this on my surface pro and its fantastic , when accessing the p.o.s on my ipad air their is a red box telling me that you are running on firefox already but their is a newer version of firefox available i then check my IOS up dates and there is no update for firefox.
I can't update Firefox for iOS on iPad. How do I get to update 9 or 10? How to set it to homepage?
The latest version (as of Aug 6, 2016) is 5.0. There is no 9 or 10. If you have 5.0 and think there is an update you can't get, don't worry, you've already got the latest version. :)
For instructions on how to set a homepage in Firefox for iOS, visit Set a homepage in Firefox for iOS.
If you have any other questions, you should use https://support.mozilla.org/en-US/questions/new where volunteers can get more details about your setup.