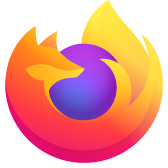 Title bar near Mozilla Firefox has strange symbol
My title bar has a weird symbol in front of where it says Mozilla Firefox
Sort of looks like a yen symbol and the m of the Mozilla Firefox looks weird as well
Posting on mobile devices other wise would attach photo
My title bar has a weird symbol in front of where it says Mozilla Firefox Sort of looks like a yen symbol and the m of the Mozilla Firefox looks weird as well Posting on mobile devices other wise would attach photo
所有回覆 (3)
What's the computer system and Firefox version you are having the problem with? Is it an Android?
it is on windows 10 and firefox 90.0.2 (64-bit)
which i am now using so have added screen capture with my personal links removed to show you what I mean just did quick SC with paste in Paint so it is very basic
由 Kobra 於 修改
I take it you mean this; (Picture) Looks like a font issue.

Type about:preferences#general<enter> in the address bar. Across from fonts and colors, press the Advanced button. On the bottom, turn on Allow Web Sites To Choose Their Own.
Make sure you haven't enabled a High Contrast theme in the OS settings.