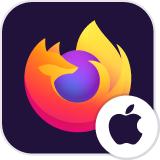 Issue with DDG as pre set search engine in FF
Hi!
I have installed DuckDuckGo as search engine in FF for iOS.
Everytime I enter a search phrase and hit search, I get a new page with the word search in the URL/search field.
Then I must delete the word search and enter my search phrase a second time, hit enter/search and then it works fine.
How do I get rid of the word "search" that appears every time I open the search engine and want to search for something using DDG in FF?
If I open the DDG app on my iphone I don't experience this issue. I just enter a search phrase and do a search just like on any other search engine I've used.
I attached pics, the first is the start page, the second is whereI did a test search for the word "walnut" and the third is the result I get, search engine page with the word search?
I hope this helps you understand my issue!?
With kind regards
Jim Staf
Hi! I have installed DuckDuckGo as search engine in FF for iOS. Everytime I enter a search phrase and hit search, I get a new page with the word search in the URL/search field. Then I must delete the word search and enter my search phrase a second time, hit enter/search and then it works fine. How do I get rid of the word "search" that appears every time I open the search engine and want to search for something using DDG in FF? If I open the DDG app on my iphone I don't experience this issue. I just enter a search phrase and do a search just like on any other search engine I've used. I attached pics, the first is the start page, the second is whereI did a test search for the word "walnut" and the third is the result I get, search engine page with the word search? I hope this helps you understand my issue!? With kind regards Jim Staf